---
In his recent State of the University Address, President David Fithian noted Clark's deep commitment to RPCVs:
This spring, when the pandemic went global and the Peace Corps abruptly evacuated all of its volunteers worldwide, Ed Carr and his colleagues at IDCE turned a time of uncertainty and disappointment into opportunity for returning volunteers.
On a Monday morning in March, Peace Corps volunteer Libby Glabe set off as usual to teach high school biology and chemistry at the Yengema Secondary School in the Kono District of Sierra Leone. Later in the day, she was notified that she would have to leave her post immediately — 18 months earlier than she had expected. Within 24 hours, she had started her journey home to Sister Bay, Wisconsin, with no idea what would come next. The economy here was imploding and pathways forward were evaporating.
Through a tireless outreach effort by IDCE, Libby learned about our strong programs and accommodations for this cohort of returning volunteers, including a streamlined application process, enhanced financial aid, and flexibility built into the academic calendar. By the end of April, Libby had been accepted as a new master's student in International Development.
With ingenuity, compassion, energy, and speed, Clark opened a door of opportunity when so many doors were closing.
That is the Clark spirit.
---
Clark continues to mobilize resources to support Returned Peace Corps Volunteers (RPCVs) and your passion for working on the big challenges.
Clark University Graduate Studies has extended support (detailed below) for RPCVs who apply to Clark master's degree programs for Spring, Summer, or Fall 2021 program starts.
Clark University's International Development, Community, and Environment Department (IDCE) offers degree programs specially designed to cross boundaries and address major social and environmental justice issues facing the world today. With a flexible, interdisciplinary, and practice-oriented curriculum, our programs allow you to pursue your passion by giving you the skills and experience to make an immediate impact by crafting solutions for the challenges facing our world.
IDCE master's degree programs:
Concentration Areas: Choose to concentrate in one of our nine focal areas, including climate change impacts and adaptation, gender and identity, urban resilience, and refugees and forced migration.
---
Support for RPCVs
Scholarship Aid: In addition to IDCE's ongoing 50% Coverdell fellowships for RPCVs, IDCE is increasing scholarship aid for tuition remission of up to 75%.

Aid for other Clark master's degrees:

Clark has extended our 50% Coverdell fellowships to all master's level programs.
Academic Fellowship Awards: Each year, IDCE awards a 100% fellowship for graduate study, awarded in April.
Admissions Process Accommodations:

Application deadlines have been suspended, and a

pplications are reviewed on a rolling admissions basis.

Priority Application Processing will be offered to all RPCVs, and decisions for completed applications will be returned within two weeks. View Application Information.
Application Fee Waiver: Application fees will be waived for all Peace Corps members. While filling out the online application, select "Yes" from a drop-down menu when asked, "Will you be receiving any outside (non-Clark) sources of assistance, including financial assistance from your employer." Under the "Please Specify" box, select "Peace Corps." This will qualify you for the application fee waiver.
GRE Testing: IDCE does not require the GRE test. Testing waivers for other master's degree programs may be granted on a case-by-case basis.
Advising and Connections with Clark RPCV faculty & students: Throughout your application and transition process you can connect with faculty and students who know firsthand the challenges of Peace Corps re-entry.
Low Cost of Living

:

Clark's Worcester campus location offers all of the advantages of a large and diverse city with a lower cost of living versus other metropolitan areas. Worcester is 1 hour from Boston and 3.5 hours from New York City.
---
Calculate the cost of an ICDE master's:
10 Unit Degree Program Cost: $60,350
50% Coverdell Program Cost: $30,175
Tuition Remission 65% - Program Cost: $21,123
Tuition Remission 75% - Program Cost: $15,088
---
Returned Peace Corps Volunteers at Clark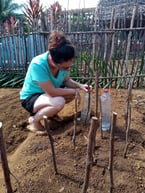 Caitlyn Abbey served as an Agricultural Extension Agent in Madagascar (2017-2019). She worked with the middle school in her village to develop a school garden for food security and nutrition education. At Clark, she studies Environmental Science & Policy with a focus on food security. Her research investigates how farmers in Michigan are adapting their water capture methods to climate change and how this is affecting their crop yields.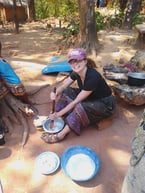 Katherine Christopher served as an Environment Volunteer in Malawi (2017-2019). She worked with schools, support groups, and community organizations on natural resource management and food security projects. Katherine is a Peace Corps Coverdell Fellow in the Environmental Science & Policy program at Clark, focusing on climate change impacts and adaptation.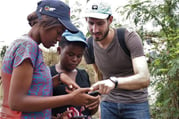 Aaron Eubank served as an English Education Volunteer in the Southern Province of Rwanda (2013-2015). He taught English and computer science at a public secondary school and took advantage of their new solar power system to create a library and computer lab. At Clark, he uses GIScience to support humanitarian and sustainable development, with a focus on community and participatory mapping. This past summer, he received the IDCE Career Development award to support an internship with Humanitarian OpenStreetMap Team (HOT) in Tanzania. Aaron says he was "able to learn from the amazing team of Tanzanians there innovating in participatory mapping, make some pretty cool maps, and enjoy the crystal waters of the Indian Ocean."